50th Reunion - Class of 1971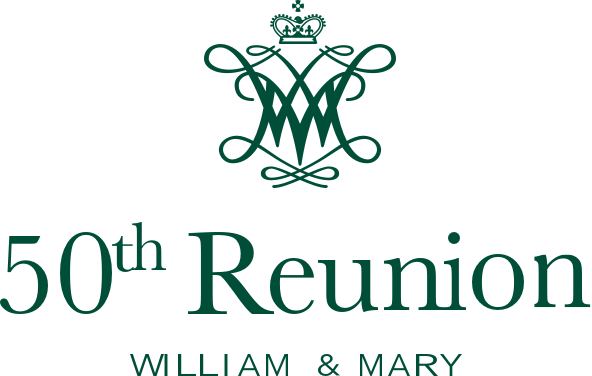 Relive moments of joy and become reacquainted with alma mater and each other at this once-in-a-lifetime event. Though the class was unable to gather on campus in 2021, please join us as we head to Williamsburg April 22-24, 2022, for our in-person celebration. Make your hotel reservations today!
Class of 1971 50th Reunion Committee
The Reunion Committee of the Class of 1971 will spend the next year working to engage and reconnect with classmates, encourage all members of the Class of 1971 to attend Traditions Weekend and strengthen philanthropy through the class gift. Please reach out to one of the committee members below if you have questions or ideas.
Co-Chairs
Douglas E. Brown '71, J.D. '74
Ralph L. Crews '71, P '08
Virginia Vogel Carey '71, M.Ed. '79, Ed.S. '93, Ed.D. '97, P '03
Virginia Klemkowski McLaughlin '71
Members
Cynthia Goodrich Allred '71
Kathleen Plasmati Baldwin '71, P '97, P '00
Lynn Fontanne Briley '71, D.Sc. '18
Robert H. Campbell '71, M.S. '73
Debbie Taylor Coleman '71
Elizabeth Wood Delk '71, M.Ed. '85, Ed.S. '89
Karen O. Ely '71, D.Sc. '18
Capt. James Hallowell Hardaway '71
Hada de Varona Haulsee '71
Dr. William J. Hausman '71
Bruce Claude Holbrook '71, P '00, P '01
Dr. Jill Sivertsen Hunter '71
Alice S. Keener '71, P '99, P '01
Winifred R. Legerton '71
Charlotte Sandquist Phillips '71
Charles Michael Savage '71, P '09, P '21
Mark O. Shriver IV '71 (deceased)
William Howard Sizemore Jr. '71, P '01
Janet Brown Strafer '71, D.Sc. '18
Patricia R. Van Zandt '71
Gail Granger Warren '71
Giving & Class Gift
Each year the 50th Reunion Committee selects projects and fundraising goals to accomplish as a part of their reunion. This year the class fundraising goals are $22,000,000 and 45% participation.
Our matching gift challenge was a huge success! The Class of 1971 successfully completed the $50,000 matching gift challenge that kicked off on Nov. 17. Thank you to the anonymous donor who generously provided classmates the opportunity to double the impact of their gifts to areas of their choice. Way to go Class of 1971!
Results
Total Giving: $21,141,561
Planned Giving: $18,334,130*
Gifts/Pledges: $2,807,431
Class Projects
The Class of 1971 Scholarship Endowment: $161,386
The Class of 1971 Lemon Project Endowment: $133,426
Class Participation: 41%
Last updated July 23, 2021
Class Projects
The Class of 1971 Scholarship Endowment
The Class of 1971 Scholarship Endowment provides need-based scholarship support for students at William & Mary, with a preference for first generation students.
The Class of 1971 Lemon Project Endowment
The Class of 1971 Lemon Project Endowment provides support for the most pressing needs of the Lemon Project at William & Mary. The Lemon Project encourages scholarship on the 300-year relationship between African Americans and William & Mary, and builds bridges between the university, Williamsburg and the broader community. Programs include the Lemon Project Symposia, a showcase for historical research related to William & Mary and the local community, and other colleges and universities. Learn more about The Lemon Project.
* For more information about planned giving visit the Gift Planning website or contact Kirsten A. Kellogg '91, Ph.D., assistant vice president for principal gifts and gift planning, at 757-221-1019 or kakellogg@wm.edu.
Re-Echo
As part of your 50th Reunion celebration, the William & Mary Alumni Association will publish an edition of the Colonial Re-Echo.  The Re-Echo is a yearbook that tells the story of our class at William & Mary and during the 50 years since graduation. There are just two questions for your submission: What's your favorite W&M memory, and what have you been up to these last 50 years?
Part 1 of the Re-Echo is available now. If you cannot find the password for the Re-Echo, please contact alumni.events@wm.edu.
Due to the postponement of the in-person reunion, members of the Class of 1971 will have a second opportunity to submit an entry for the Re-Echo Part 2. This opportunity is for classmates who did not participate in Part 1. Re-Echo entries for Part 2 are due by 11:59 p.m. on October 31, 2021.