50th Reunion - Class of 1973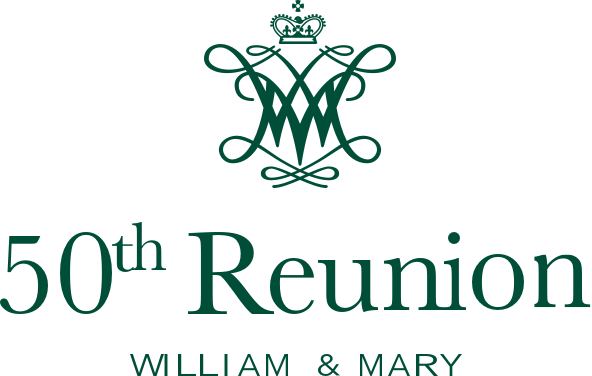 April 28-30, 2023
The 50th Reunion marks a meaningful milestone for alumni, bringing together classmates from near and far for an exuberant celebration. We hope you will make plans to join everyone on campus April 28-30, 2023 to relive moments of joy and become reacquainted with alma mater and each other. 
Re-Echo
As part of your 50th Reunion celebration, the William & Mary Alumni Association will publish an edition of the Colonial Re-Echo. The Re-Echo is a yearbook that tells the story of our class at William & Mary and during the 50 years since graduation.
Can't attend Traditions Weekend? You can still purchase a Re-Echo and an Olde Guarde Medallion for $25 each by emailing the W&M Alumni Association.
Have photos from your time at W&M you'd like to share with your classmates in addition to your Re-Echo entry? Submit them here by April 10.
Please note that any photos submitted may be used in printed material and the Class of 1973 slideshow.
Giving & Class Gift
Each year the 50th Reunion Committee selects projects and fundraising goals to accomplish as a part of their reunion. This year the class fundraising goals are $9,500,000 and 50% participation.
Final Results
Total Giving: $9,573,889
Planned Giving: $4,868,814*
Gifts/Pledges: $4,705,075
Class Project: $323,782
Class Participation: 45%
Updated May 4, 2023
* For more information about planned giving visit the Gift Planning website or contact Kirsten A. Kellogg '91, assistant vice president for principal gifts and gift planning, at 757-221-1019 or kakellogg@wm.edu.
Class Project
Class of 1973 Internship and Applied Learning Endowment (5220)
Funds distributed from this endowment shall be used to provide support for internships and/or applied learning experiences for undergraduate students at William & Mary.
Class of 1973 50th Reunion Committee
The Reunion Committee of the Class of 1973 will spend the next year working to engage and reconnect with classmates, encourage all members of the Class of 1973 to attend Traditions Weekend and strengthen philanthropy through the class gift. Please reach out to one of the committee members below if you have questions or ideas.
Co-Chairs
J. Thomas Flesher '73, Co-Chair
Renee Fleming Mills '73, Co-Chair
Mary Mann Smith '73, P '11 Co-Chair
Jeffrey B. Trammell '73, Co-Chair
Members
Albert Allen III '73
Barbara Bounds Brown '73, P '10
Lynda Lee Butler '73
Richard Reynolds Clark '73, P '09
Rebecca Deans Crews '73, P '08
Hilda Crucet Garrett '73, P '12
Daniel William Gepford '73, P '02, P '04
Robert Charles Gottke '73, P '06
Jay Alvin Gsell '73
Elizabeth Frazier Hixon '73, P '07
John Kenneth Kloster III '73
Penelope Harper Meredith '73, P '01
Katherine Ammen Mortara '73, P '10
Dede Miller Nelson '73
Debra Jean Prillaman '73, J.D. '76, P '19
Donald A. Purdy Jr. '73
Mary Sammons Rordam '73, P '10, P '10, P '11
Nancy Lee Rowland '73, P '03, P '08
Bruce Roy Wachter '73
Joan Spiegel Wachter '73