50th Reunion - Class of 1974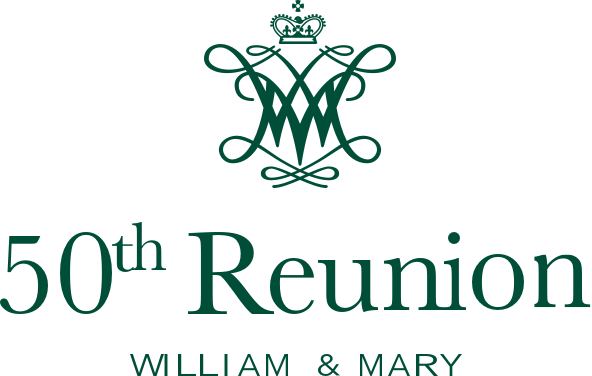 April 19-21, 2024
The 50th Reunion marks a meaningful milestone for alumni, bringing together classmates from near and far for an exuberant celebration. We hope you will make plans to return to campus April 19-21, 2024, to relive moments of joy and become reacquainted with alma mater and each other.
Make your hotel reservation online by March 21, 2024 or by phone at 800-261-9530 and mention W&M Traditions Weekend.
Class of 1974 50th Reunion Committee
The Reunion Committee of the Class of 1974 will spend the next year engaging and reconnecting with classmates, encouraging all members of the Class of 1974 to attend Traditions Weekend and strengthening philanthropy through the class gift. Please email Sarah Garrett at spgarrett01@wm.edu if you have questions, ideas or would like to reach one of the committee members below.
Co-Chairs
Robey "Rob" W. Estes Jr. '74, P '06, Co-Chair
H. Thomas "Tom" Watkins III 74, P '05, P '11, Co-Chair
Frank J. Wood III '74, Co-Chair
Members
Patricia "Pat" Sanderlin Burton '74
Barbara Lynn Cole '74
Anne Totty Dayer '74
Paul A. Dayer '74
Susan King Eftink '74
Sheryll "Sheri" Lynn Elston '74, P '03
Corrine "Cory" Pellegrin Hudgins '74, P '94
Marsha Lynn Montgomery '74
Carol Owen Outten '74, P '02
Milton "Mick" A. Outten '74, P '02
James E. Person '74
William Lee Powell '74, M.B.A. '81
Lawrence "Larry" B. Pulley '74, P '13, P '15
William "Bill" M. Richardson '74
Joyce "Joy" T. Unger '74, P '09
Barbara "Barb" Blake Williams '74
Giving & Class Gift
Each year the 50th Reunion Committee selects projects and fundraising goals to accomplish as a part of their reunion. This year the class fundraising goals are $12 million and 47% participation.
Results
Total Giving: $9,678,513
Planned Giving: $4,224,501
Gifts/Pledges: $5,454,012
Class Projects:
The Class of 1974 Scholarship Endowment: $35,746
The Class of 1974 Internship and Applied Learning Endowment: $137,318
Class Participation: 44%
Last updated Nov. 29, 2023
* For information about planned giving visit the Gift Planning website or contact Kirsten A. Kellogg '91, assistant vice president for principal gifts and gift planning, at 757-221-1019 or kakellogg@wm.edu.
Class Projects
The Class of 1974 Scholarship Endowment: (#5445) Funds distributed from this endowment shall be used to provide need-based scholarship support for undergraduate students.

The Class of 1974 Internship and Applied Learning Endowment: (#5446) Funds distributed from this endowment shall be used to provide support for internships and/or applied learning experiences for undergraduate students at William & Mary.
Re-Echo
As part of your 50th Reunion celebration, the William & Mary Alumni Association will publish an edition of the Colonial Re-Echo. The Re-Echo is a yearbook that tells the story of our class at William & Mary and during the 50 years since graduation. Instructions to submit entries to the Re-Echo submissions will be distributed this fall and you will be able to purchase both a Re-Echo and an Olde Guarde Medallion when you register for Traditions Weekend in early 2024.
Have photos from your time at W&M you'd like to share with your classmates in addition to your Re-Echo entry? Submit them here by March 25.
Please note that any photos submitted may be used in printed material and the Class of 1974 slideshow.